Plumes of smoke spewing ash, red-hot lava running in a viscous flow, swirls of black volcanic rock beneath your feet. It is the epitome of a thrilling volcano adventure.
Unsurprisingly, volcano tourism has been on the rise in recent years, with Hawaii an identified hotspot (pun intended) – namely its fascinating Volcanoes National Park. The last mid-2018 Kīlauea eruption saw the closure of the acclaimed park which has since been reopened toward the end of last year.
Fret not, officials have confirmed the National Park to be safe for visitors, but still keeping in mind the regular safety precautions as issued by the U.S. National Park Service.
That being said, Volcanoes National Park is a once-in-a-lifetime experience best enjoyed with adequate preparation. Getting around the vast park is best done by car in which you can enjoy the scenic drives as well as pull over to explore some of the best hiking trails and geological wonders on foot.
To kick off your experience, stop by at the Kilauea Visitor's Centre so you can schedule any guided tours, pick up a map of the park and get latest eruption updates if any.
You can't go to Volcanoes National Park without catching some lava flow in action. While the Kīlauea eruption has caused the primary lava-viewing trails (Kilauea Iki Trail) to be closed until further notice, there are other ways to go about this.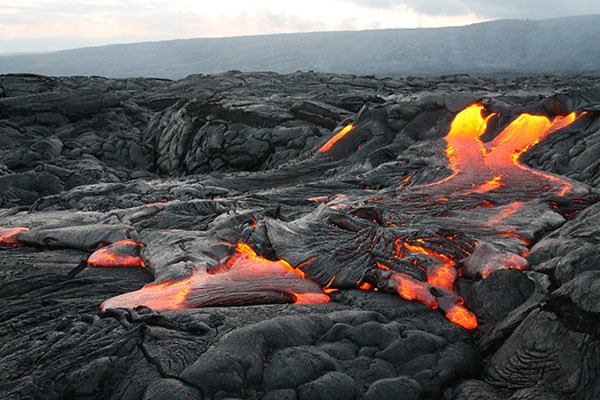 Guided lava hikes can be booked through private agencies where experienced guides bring you to lesser-known locations to watch the red-hot lava flow. As many of the tours bring visitors across uneven, rocky terrain, it is advisable to inquire further about physical requirements of the hike before making any bookings.
Some hiking tours even bring you to private lava tubes for an eye-opening exploration of its cavernous interiors. As of right now, since the famous Thurston Lava Tubes are still closed till further notice, guided tours are the way to go to view other hidden lava tubes.
An alternative is the Kilauea Caverns of Fire, a 600 year-old lava tube system offering an unadulterated, fresh experience as compared to the more touristy Thurston Lava Tubes. Located an hour's journey out from Volcanoes National Park, it is a worthwhile stopover adventure that must be undertaken with a guide.
A sprawling cavern of flowstone unravels before you, a chilling lave tube experience where you'll climb natural rock stairs, dodge stalagmites and maneuver around uneven platforms through an hour-long or three-hour long tour.
For a classic Indiana Jones-esque escapade, opt for a day's worth of spelunking in the longest mapped lava tube in the world – the Kazamura Lava Tube system.
This unique subterranean journey takes you through miles of hidden subterranean passageways and caves, not for the faint-hearted or the claustrophobic considering lava used to flow freely right where you stand!
For a more convenient way to see the scorching lava, lava boat tours provide the ultimate experience of another angle of lava flow. From a boat, watch the lava flow directly into the Pacific Ocean in a cloud of sizzling smoke.
Rest assured, safety precautions have been put in place. A select few lava boat tours have been granted special permission to approach the lava safety zone for a closer look – namely, Kalapana Cultural Tours, Hawaiian Lava Boat Tours, Moku Nui Lava Tours and Lava Ocean Tours. An exceedingly popular sunrise tour by Lava Ocean Tours offers unrivalled views of lava in the dark!
Who knew you could even revel in unparalleled aerial vistas of lava flow from above? Paradise Helicopters offers tours right above the Kilauea molten activity.
Watch the viscous red streams of lava zig-zag through the black volcanic rock and finally enter, with a sizzle, into the ocean. Truly a breathtaking sight to behold.
The Crater Rim Drive is a circuit that circles the entirety of the park. Taking this drive, clouds of billowing steam quickly come into view, signalling the Steam Vents that are on your left on the edge of the Kilauea caldera.
This is Wahinekapu, as the locals call it – a bed of hot volcanic rocks where groundwater is turned into steam. The heat from the vent is palpable as you explore the surroundings of this balmy thermal area.
A sharp contrast to the rest of the rain-forested landscape, the caldera's edge and outer cliffs are grassy plains of shallow-rooted plants as tree roots are unable to withstand the heat.
A short walk down the trail from the Steam Vents parking lot is Steaming Bluff, on the rim of the caldera. Framed by plumes of steam rising from fractures in the ground, the cliffs and meadow in the backdrop make for a good photograph.
Right across from the steaming thermal area is the trailhead to Sulphur Banks (or Ha'akulamanu), a short, manageable hike down a paved path and boardwalk. Be ready for the assault on your senses (particularly, your olfactory system).
From the ground escape volcanic gases, a pungent mixture of carbon dioxide, hydrogen sulfide and sulfur dioxide reminiscent of rotten eggs.
Look out for curious yellow sulfur crystals that are deposited on the rock surfaces. The sulfur gases also react to break lava down to a clay red from iron oxide, producing a Martian landscape of reddish-brown gravel.
Take a scenic drive down the 18-mile long Chain of Craters Road to encounter stunning views of the East Rift Zone peppered with fascinating features. These include pit craters, spatter cones, active lava flow, a lava arch, the sacred Pu'u Loa Petroglyphs and other natural features.
The Holei Sea Arch at the end of the road is a natural formation by lava and the Pacific Ocean and makes for a short but spectacular walk about the coastline to conclude your drive.